Drug Discovery & Development
Drug Discovery and Development
Small and Large Molecules are, throughout the whole drug discovery and development process, both drivers of Pharma and Biotech companies' future and at the same time one of the biggest risks and liabilities. Wrong choices during this process may lead to important issues down the line such as large sunk costs, a clogged clinical development pipeline, misallocation of personnel and resources, and even withdrawal of the product from the market in case of serious consequences for the patients.
Drug developers have been therefore concentrating much of their efforts into increasing attrition and elimination of candidates from the development pipeline at early preclincal development stages, collecting critical information on the safety of the different molecules as early as possible, focusing on relevant biological models and saving precious time and resources. The 5R-dimensional framework, first introduced by AstraZeneca in 2012, aims at making the right choices during the drug discovery and development choices by taking into consideration the right target, the right tissue, the right patient and the right safety tests in order to create the right model. With the help of this model, Pharma and Biotech companies around the world are increasing their success rate of drugs candidates reaching phase III of their clinical development, creating new momentum and new chances for patients.
The Drug Discovery and Development process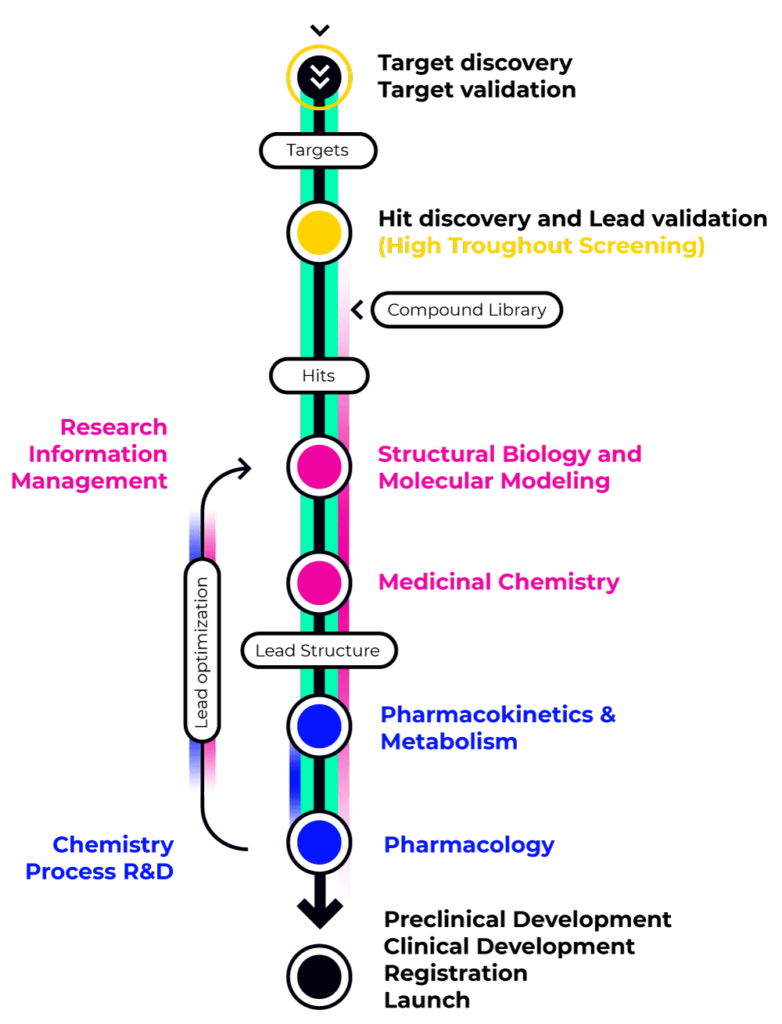 The Drug Discovery and Development process for both Small and Large molecules starts with a deep understanding of the disease to be treated, and two main strategies are employed, depending on whether a molecular target for the treatment has been identified.
Target-based strategies aim at confirming the mechanism of action of a disease and identifying a valid therapeutic target. This target is later employed in high-throughput screening assay to identify molecules can present an effect (hit) and can be confirmed to become a drug candidate (lead) to be further optimized until it's ready for preclinical and later clinical trials.
Target-agnostic strategies (phenotypic screening) aim at creating accurate disease models and testing pre-selected compounds to select candidates with a significant biological activity.
While for small Molecules developers it is important to create close collaborations between the biology, the medicinal chemistry and the ADME-Tox departments in order to proceed a candidate through the pipeline, Large Molecule developers will also have to coordinate the activities of the cell line generation, protein engineering and CMC (Chemistry Manufacturing Control) departments in order to ensure that production is efficient and scalable.
New Challenges in Drug Discovery and Development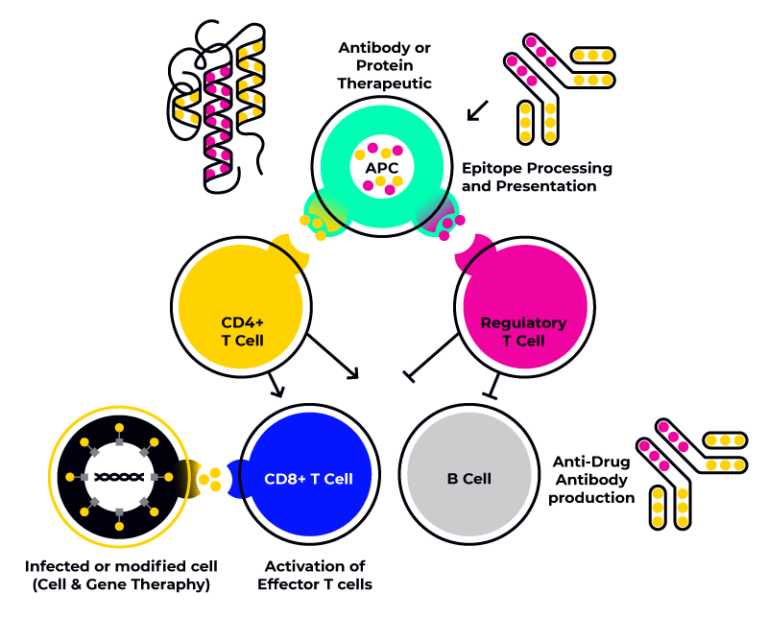 Immunogenicity is a mechanism that can involve both cells of the innate immune system such as monocytes, macrophages, NK cells, mast cells and neutrophils and and cells of the adaptive immune system such as macrophages, denditic cells, T-Helper cells, T-Cytotoxic cells, T-Regulatory cells and B-Cells.
The HLA profile of an individal constitutes an important contributing factor to the immune response, and it is therefore necessary to study cells from donors presenting an HLA profile representative of the target population in order to accurately set up immunogenicity assays.
The following challenges in particular are becoming an important source for concern
Safety and efficacy challenges
Development of assays for early detection of safety concerns
Development of new assays for on- and off-target toxicity for large molecule and ATMPs manufacturers targeting intracellular epitopes presented on HLAs
Development of biomarkers and companion diagnostics to monitor the evolution of the therapy
Pipeline de-risking challenges
Differentiation of the development pipeline into new modalities
Establishment of relevant complex biological models to ensure smooth translation of pre-clinical data into the clinic
Flexibility and capability challenges
Development of capabilities to investigate adverse effects during clinical development and provide mechanistic explanations to correct ongoing and future trials
Maintenance of operational flexibility in R&D in order to allocate resources to new and promising projects
Establishment of result-oriented partnerships with dependable partners to ensure in-time and on-budget project completion
If any of the previous challenges resonates with you, make sure to book a free consultation session with one of our experts.
Our offering for Drug Discovery and Development
BIOMEX is a leader supplier in Life Science, supporting Pharma and Biotech in their Drug Discovery and Development efforts.
Our curent offering for Drug Discovery and Developments includes:
Our Experts for Life Sciences
Unlock the potential of your research with our high-quality biospecimens and expert services. At BIOMEX, we believe that working with our customers is the best way to improve project success and reduce costs and development time.
Characterized FFPE Blocks